Clawswitz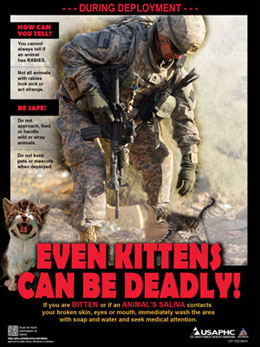 God's honest truth: When we first saw this Army poster – yes, it's real – we thought the story would be about using kitties for improvised explosives.
And the second thing we thought was highly inappropriate.
Anyway, once you're done giggling – really, it's okay, how can you not? – here's the sobering background:
The Army is redoubling its search for anyone who might have been bitten by a wild animal in Iraq or Afghanistan following the Aug. 31 death of a soldier from rabies, the service's public health command stated Wednesday…

Spc. Kevin Shumaker, 24, became the first soldier to die from rabies since 1967 after he was bitten by a stray dog in Afghanistan.
Even worse: Shumaker actually received thee of six shots. But the final three had expired.
So yes, this is very serious business, and shame on you for thinking otherwise.
But still.
Add a Comment
Please
log in
to post a comment