Go Fightin' Pederasts!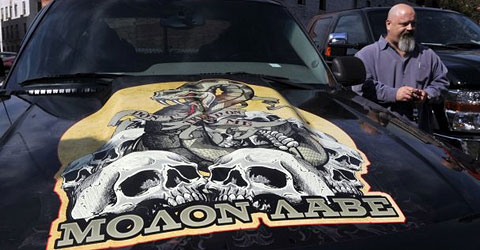 What's this?
Militia supporter Darren Wesley Huff, of Dallas, Ga., stands by his pick-up truck during a lunch break Tuesday while being tried on federal gun charges. Huff allegedly traveled in April 2010 to the Monroe County Courthouse with a handgun and an AK-47 to serve a "citizens' arrest warrant" on local judges and law officers. The Greek inscription means "come and take them," reportedly spoken by the Spartans in response to a demand to surrender their weapons at the Battle of Thermopylae.
If you're not up on your Ancient Greek History, don't worry — neither is Mr. Huff. We'll bet he doesn't know shit about Thermopylae, but can recite the movie "300" start to finish.
Whereas the other end of the Protest Spectrum is all over "V for Vendetta", since we're equally confident that they don't know shit about Guy Fawkes.
What is it with Angry People and comic-book movies these days? Why don't they stick to the Classics, like Star Trek and Star Wars?
Add a Comment
Please
log in
to post a comment