We Fast-Forward to 3:49 So You Won't Have To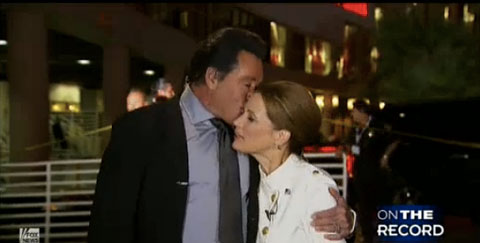 Las Vegas. Night. Greta Van Susteren is interviewing Wayne Newton and Michele Bachmann after the GOP debate. Action!
"I will support this beautiful lady as long as she wants to go," Newton said, as he repeatedly caressed Bachmann's arm.

"That's pretty hot," Van Susteren said.

At the end of the clip, Newton moves in for a kiss, which Bachmann adroitly dodges so that it lands on her forehead.
We'll open the bidding with "That's more action than she gets from Marcus."
Add a Comment
Please
log in
to post a comment