Shooting From The Foot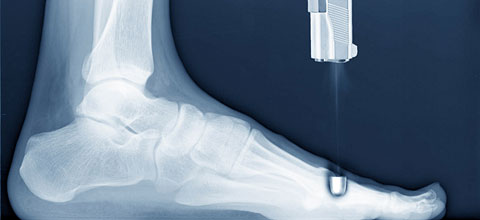 It's not our place to be Shocked! by Rick Perry, mainly because we have standards for these things, and Deranger Rick is far from meeting them. (For the record, if you want to push our button, suggest that Barack Obama might meet Bobby Kennedy's fate.)
So we're still waiting to see how Rick's act plays outside the Usual Venues, and it might be some time before we get an indication one way or another. Meantime, we are a little surprised that it's not playing as well inside the Usual Venues as we had been led to expect. Here, courtesy of Salon's Steve Kornacki, is the — pardon the expression — round-up:
There was the scathing editorial in Monday's Wall Street Journal that questioned his general election viability and called for a new candidate to enter the race, along with a similarly themed column from Ross Douthat, the New York Times' most conservative voice. Then on Monday night, Karl Rove went on Sean Hannity's Fox News show to argue that there's still time and room for new candidates to run, specifically mentioning Chris Christie and Paul Ryan, and when the Bernanke comment broke, Commentary's Podhoretz branded it "a serious rookie mistake" that will make it harder for Perry to win over the Republicans who have been looking for a new candidate.
We already knew there's no love lost between the Bushies and Perry, but we thought that detail would later emerge in catty unsourced Politico stories about backstage backstabbing. What we didn't expect was for institutional Republicans to be such scolds, especially this quickly. Wasn't the whole point of his candidacy to unite the wingnuts and the batshits?
Which might explain why now — after Perry — Bill Kristol has revived his bromance with Paul Ryan. Here we've been wondering whether Rick Perry will appeal to Americans, when it has yet to be proven that he appeals to Republicans.
Add a Comment
Please
log in
to post a comment