A GOP and Libertarian Workers' Paradise
This is what it looks like: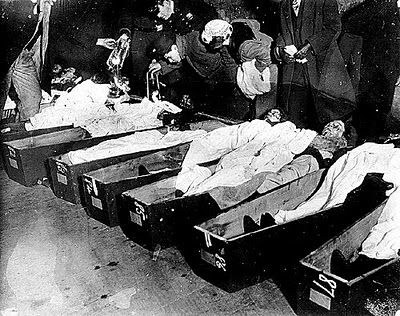 Today is the 100th anniversary of the Triangle Shirtwaist Fire. It was an important event in the rise of the modern American labor movement.
The Triangle Shirtwaist Factory fire in New York City on March 25, 1911, was the deadliest industrial disaster in the history of the city of New York and resulted in the fourth highest loss of life from an industrial accident in U.S. history. The fire caused the deaths of 146 garment workers, who either died from the fire or jumped to their deaths. Most of the victims were recent immigrant Jewish and Italian women aged sixteen to twenty-three.[1][2][3] Many of the workers could not escape the burning building because the managers had locked the doors to the stairwells and exits. People jumped from the eighth, ninth, and tenth floors.
Not only were the doors locked, the ladders only reached to the 6th story, but the fire was on floors 8, 9, and 10.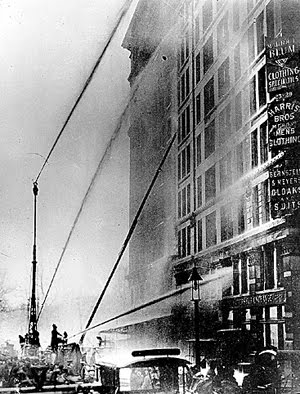 The owners of the Triangle Waist Company were tried but acquitted in less than 2 hours by an all male jury. Part of the problem was a lack of regulations and laws with which to prosecute them.
So let's cut to the chase – driftglass points us to this quote:
Regulation, which is based on force and fear, undermines the moral base of business.
-Alan Greenspan
This is what Scott Walker and the other teabagger governors want. The glibertarians and the GOP are even attacking things as basic as child labor laws.
What are you willing to give up? The 40 hour work week?  The weekend? Overtime pay?
If you have HBO, this documentary on the fire is worth watching. Ric Burns also explores the issues surrounding the fire in his New York documentary (videos embedded below).
Remembering the young women who leapt to their deaths from the Asch Building is important. Fighting the GOP, the libertarians, and the Koch brothers and other corporations who want to gut worker protections is not optional.
https://www.youtube.com/watch?v=owk_LE1GcKY
Add a Comment
Please
log in
to post a comment