Welcome to the 2010 Stinque Awards!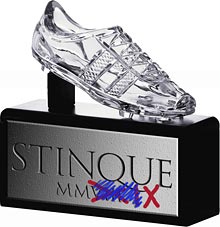 OMG, we're so excited! James Franco has agreed to host our ceremony this year, and— what? They've sent only his hand? Jeez, this is gonna be awkward, especially since Thing's lawyers are insisting on their contractual requirement that he be the Exclusive Hand during the presentation. Well, shit. Okay, look, put it on ice and send it back. Is Daniel Day-Lewis still available?
While our assistants are Googling the source of that last reference, welcome to The 2010 Stinque Awards for Achievement in Infamy, our third annual celebration of the best in bloggable beastliness. We'll be here all day, presuming we don't trigger a DDOS attack from petulant basement-dwellers.
First, against our better judgment, the Technical Awards for Nice People, a tradition we've allowed to flourish in a moment of weakness. Please, holster your tomatoes. Target practice doesn't begin for another hour.
Bernie Sanders, for showing Democrats what Democracy ought to be.
Jon Stewart, for showing Republicans what common decency ought to be.
Sheryll, for showing us what self-actualized transcendence ought to be.
Dan Savage, for launching the It Gets Better project.
The Chilean Miners, for grace under ground, and celebration above.
Steve Jobs, for providing us an iGadget that, for better or worse, finally weaned us off pocket spiral notebooks.
Rachel Maddow, who in the course of being Rachel Maddow makes John Hodgman look bad. Just ask him.
Next hour: Le Prix Trudeau for Best Un-American Activity
Add a Comment
Please
log in
to post a comment