TILT TILT TILT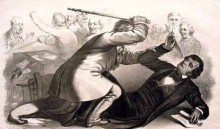 Word now comes that the Big Munnie Bill ($1.1tn, give or take a few billion) is dead over in The World's Greatest Deliberative Body — thanks to GOP senators' objections to it. 
And thus the Grand Plan ("pass the tax-cut extension and the Omnibus to Hell, and then we might let you vote on DADT, DREAM and START… mebbie") comes crashing apart.  At least on the Senate side.  There may be a DADT vote this weekend, but Snowe, Brown et al may jump ship again, because of the failure of the bill relating to munnie.
Meanwhile, the House is now set to vote on the tax cut side of things at around 2300 Eastern War Time.  Debate/grandstanding happening now, LIVE, on C-SPAN.  ("Live" is, naturally, a loaded term.)  Dems, in debate I've seen in the last few minutes, seem spoiling for a fight. 
God only knows what will happen.  One thing seems clear, though.  Black Eagle's attempt to bring peace to the valley by ditching the dirty hippies to appease people who hate him?  FAIL.
Add a Comment
Please
log in
to post a comment