Finally, An Internet Protest We Can Get Behind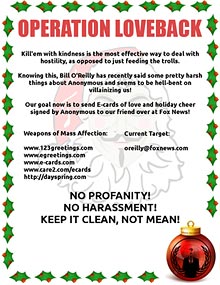 We've had some issues lately with actions taken against WikiLeaks opponents. Sure, it sounds like fun to take down the Visa and MasterCard public websites, but it does nothing to impede their operations (dudes, go after the authorization servers!), and it sets a bad example. Shouting down your opponents — which is what a "denial of service" attack amounts to — just makes you out to be a bunch of petulant hooligans.
Which is why we're pleased to see that "Anonymous," one of the more prominent ad hoc cyberprotest groups, is adopting a new tactic:
Bill O'Reilly has recently said some pretty harsh things about Anonymous and seems hell-bent on villainizing us!

Our goal now is to send E-cards of love and holiday cheer signed by Anonymous over to our friend at Fox News!
We'll grant that in a practical sense, a "Weapon of Mass Affection" will have the same pipe-clogging effect as a raw packet attack against a website — and that O'Reilly probably never sees messages sent to oreilly@foxnews.com anyway.
But if you're gonna engage in a meaningless protest, why not do it with style? If nothing else, you'll get better press.
Welcome to the cyber sit-in: Many 'Payback' protesters easily identified, study finds [Raw Story]
Add a Comment
Please
log in
to post a comment