Announcing the 2010 Stinque Awards!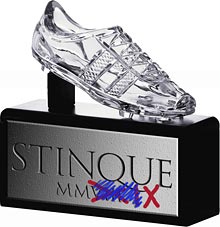 There's an old rule in journalism that you can't call an event "annual" until it reaches its third installment. Something about not taking organizers at their word, and waiting for actual results.
That's right, kids: Journalists used to have standards!
Unlike, say, us.
But since, to apply another ironclad rule, eighty percent of success is showing up, and we've somehow managed to show up three years running, we're happy to announce — officially, mind you — the Third Annual Stinque Awards for Achievement in Infamy.
If you're not familiar with the Stinque Awards, we've adopted a Unique Methodology that distinguishes us from the flood of blogfill other year-end awards clamoring for your attention: You do all the work!
We could spend all day on C-SPAN explaining the process, but we'll cut to the chase: This week we seek suggestions for Categories and potential Nominees, from which we will arbitrarily select a handful for further consideration. Next Monday voting will commence, using a secure system provided by the U.S. Department of State that guarantees your confidentiality. Finally, on December 27, we will announce the winners in a painfully long ceremony that can only be accurately measured by reservoir levels during commercial breaks.
Confused? Consult the 2008 and 2009 presentations for nomination tips. The only certain award is the celebrated Golden Anal Pear for Asshole of the Year, for which Joe Lieberman is attempting a rare threepeat. The coveted Crystal Douchebag for Lifetime Achievement is only awarded if nominations merit, and whether the winner can guarantee substantial gifts to our capital fund.
Winners receive our handsome Crystal Shoe in honor of Muntader al-Zaidi, who inspired the world in 2008 by Throwing Truth to Power. Because of an ordering snafu during our inaugural event our commitment to a Green World, we're recycling our original statuettes until we can see the back of the storage unit again.
Add a Comment
Please
log in
to post a comment