9th Circuit Open Thread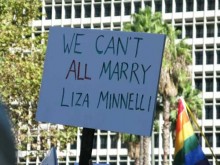 Are you ready to rumble? C-SPAN is airing the battle in San Francisco, beginning at 10 am PST.
Three judges from the Ninth Circuit Court of Appeals will hear arguments this morning on whether Prop. 8 is constitutional.
The first hurdle will be for the proponents of the ballot measure to explain to the court how they even have standing to appeal district judge Vaughn Walker's August 4 decision striking down Prop. 8, seeing as how the named defendant, the Guvernator, and AG/soon to be Governor Moonbeam refused to appeal the decision.
The three judge panel consists of the liberal senior judge Stephen Reinhardt (Carter appointee), Michael Hawkins (Clinton appointee), Randy Smith (W appointee).  Keep your attention on Judge Hawkins, as the staunchly liberal Reinhardt and conservative Smith are pretty much assumed to fall on each side of the issue.  Last week the proponents of Prop. 8 asked Reinhardt to recuse himself from the case because his wife, Ramona Ripston, is the retiring Executive Director of the ACLU of Southern California. Reinhardt said no.  Notably, the Prop. 8 challengers did not ask Smith to recuse himself from the case because he and his wife are Mormons.
Whatever decision the panel makes will queue up for likely review by SCOTUS. Some legal analysts say the panel may limit their ruling to the standing issue, as if they rule the proponents have no standing to defend the law, this would let Walker's ruling hold, yet put the constitutional analysis off to another day. Personally, I don't think Reinhardt's the type to wimp out on a technicality. What say you, Stinque Legal Eagles?
So have at it in the thread, anyone who's watching. Unfortunately, I will only be able to join you after the fact.
Add a Comment
Please
log in
to post a comment