Quinn On The Breakaway….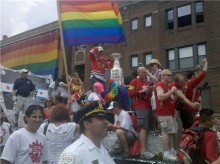 The high point for gays in the Land of Lincoln, so far this year, was having Brent Sopel bring the Stanley Cup (pictured) to the Gay Pride Parade in Chicago — the first time the Blackhawks made an appearance at the party.  But the bloom kind of came off that rose, as Sopel promptly departed for Atlanta, after a trade to the Thrashers. 
It was a neat story, actually.  Sopel promised to go even after he learned he was on his way out — all in honor of Brendan Burke, an out hockey player (and son of Brian Burke, GM of the Toronto Maple Leafs and the U.S. Olympic Hockey Team), who died in a car crash in February.
But this is the second best moment, it seems, for those with a case of the gay in Illinois this year.  Moment No. 1 just might come tomorrow:
After waiting years for a political climate that would generate enough support, gay-rights activists won one of their biggest fights in history Tuesday when the Illinois house voted to allow civil unions for same-sex couples…. The legislation was approved by a 61-52 vote [and] now moves to the Senate, and a spokeswoman said it could be called for a final vote there Wednesday.
It's taken me seven years, since I moved to Chicago, to say something this brash and bold.  And tomorrow, I just might be able to say…. suck it, Wisconsin.
Add a Comment
Please
log in
to post a comment