Mission Accomplished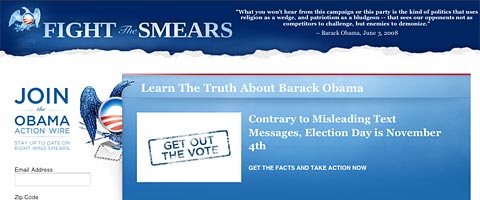 This is the homepage of the Obama campaign's Fight the Smears website. It was launched to great fanfare as a one-stop shop to counter the scurrilous slurs circulating among opponents and your misguided relatives.
We don't know how effective it was in practice, but we liked the symbolism: A candidate who wasn't going to sit back and let smear merchants define the terms of debate. A campaign that would aggressively rebut the wild charges against it.
The website hasn't been updated since November 2008. Because, as everybody knows, smears against Obama, Democrats, and their policies completely stopped the moment he was elected.
Add a Comment
Please
log in
to post a comment