Thank You For Your Service, Wuss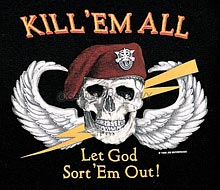 Bryan Fischer of the American Family Association can't let a good deed go unpunished:
We have feminized the Medal of Honor.

According to Bill McGurn of the Wall Street Journal, every Medal of Honor awarded during these two conflicts has been awarded for saving life. Not one has been awarded for inflicting casualties on the enemy. Not one…

So the question is this: when are we going to start awarding the Medal of Honor once again for soldiers who kill people and break things so our families can sleep safely at night?
If only our soldiers behaved more like — well, more like Jesus:
Jesus' act of self-sacrifice would ultimately have been meaningless — yes, meaningless — if he had not inflicted a mortal wound on the enemy while giving up his own life.

The significance of the cross is not just that Jesus laid down his life for us, but that he defeated the enemy of our souls in the process.
Good news! Satan has been dead for two thousand years! And as part of our Peace Dividend, we'll be removing tax breaks for faux-Christian organizations like the American Family Association! Hallelujah!
Add a Comment
Please
log in
to post a comment