Barry's Tranny Nanny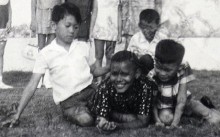 The other day on the occasion of Obama's visit to Indonesia, the Gray Lady had an article about his experiences living there from ages 6 through 10.  While going over some familiar territory (young Barry went to a Catholic school, not a madrassa) and less well-known (he ran like a duck), this little nugget was slipped in to the article:
His nanny was an openly gay man who, in keeping with Indonesia's relaxed attitudes toward homosexuality, carried on an affair with a local butcher, longtime residents said. The nanny later joined a group of transvestites called Fantastic Dolls, who, like the many transvestites who remain fixtures of Jakarta's streetscape, entertained people by dancing and playing volleyball.
OMG! Volleyball? What's next, cricket?
While this revelation has primarily been discussed on gay blogs and British websites, I've been waiting for the birthers and teabaggers to jump on it for no other reason than the entertainment purpose of watching a million right wingers' heads asplode. My wishes have been answered, as Drudge discovered the story yesterday. My favorite rambling and grammatically incorrect Drudge comment to date:
Atheist, Socialist parents, teachers, radical friends and spiritural leaders and now revelations that he had a 'gay nannie', it appears that Satan had a strong hand in the Obama's upbringing, to be used for an evil purpose.
Meanwhile, my reaction to this factoid is it's too bad that despite an unusually open-minded childhood, Barry isn't intellectually honest enough to admit that if his childhood nanny and neighborhood butcher lived in the United States they have the Constitutional right to equal treatment under the laws and to not face discrimination in choice of careers and life partners.
Add a Comment
Please
log in
to post a comment