Pitchforks and Torches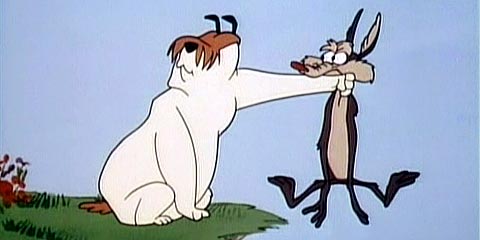 Every Hero needs a villain. And for Markos Moulitsas, the Villain of the Olbermann Window Closing is MSNBC President Phil Griffin:
Remember how I told you about Phil Griffin, and how he's done everything possible to keep MSNBC from going the full liberal?

I rest my case. MSNBC has suspended Olbermann indefinitely without pay for giving political contributions to several candidates this cycle.
The Kos Case — repeated ad infinitum across the Web — goes something like this: Griffin is a Joe Scarborough partisan who grudgingly puts up with Olbermann because Keith made MSNBC a (relative) success, after years of failure. But Griffin undermines the left-leaning nature of that success every chance he gets, because it chaps his ass.
This should be easy to document.
Except for one problem: It isn't.
Kos, it should be noted, is not an innocent bystander. He got into a twitterfight with Scarborough earlier this year, and was subsequently — what's that phrase? — suspended indefinitely from appearing on the channel. (As far as we're concerned, he never added anything to the conversation on Countdown, but that's another matter.)
So let's check his evidence. In his July post about his "blacklisting," Kos put Griffin in the crosshairs:
With the impending acquisition of NBC by Comcast, Griffin fears for his job, and Scarborough is his meal ticket. You see, Griffin had nothing to do with Olbermann's show, and had little to do with Rachel Maddow's — a project spearheaded by Olbermann.
Kos links to a November 2008 New York magazine article on Maddow to make his case:
With Olbermann's urging, Maddow, who had never even used a TelePrompTer before February, began guest-hosting Countdown last year, and soon Olbermann was pressuring Phil Griffin, his friend and producer, to give her Abrams's slot. In July, Griffin told the Times he planned to give Maddow a show when the opportunity arose. "And a month later, when [Griffin] was promoted to president," Olbermann says, "he did."

He may not have had much of a choice. According to MSNBC insiders, as Olbermann's ratings have risen, so has his level of power at MSNBC. "Phil Griffin didn't hire Rachel," says one person who works at the network. "He didn't want to hire Rachel. Keith hired Rachel." Olbermann plays down his involvement: "It was nothing more sophisticated than being the person who nominated her for membership in the club." But he was the one who broke the news of Maddow's show on August 19, on the liberal Website Daily Kos, writing coyly, "Yes, I had something to do with it."
Slight problem here: MSNBC employs about five hundred people. And as any reader of Spy or early Gawker knows, the Manhattan media world is deliciously cutthroat and gossipy. You can't take unnamed sources at invisible-face value — just like in politics, everybody has an agenda. This includes media reporters, whose agenda includes using unnamed sources to look like they're plugged in.
But there's another problem: Kos only quotes the second of these two paragraphs. He skips the line describing Griffin as Olbermann's "friend and producer."
This complicates things. You can't have Heroes palling around with Villains. Unless Griffin is a wolf to Olbermann's sheepdog, we're having a hard time imagining the two sharing beers after punching out from a day of antagonistic mayhem. Something about the Evil Phil Griffin angle isn't panning out.
Here's what we do know: Phil Griffin and Keith Olbermann go back almost thirty years. Griffin was the producer for Olbermann's first television job, at CNN in 1981 — when Keith was 22. Sixteen years (and more than a few flame-outs) later, Griffin was again the producer for Olbermann's first show at MSNBC. A few more years, a few more flame-outs, and Griffin steps back in the picture: "But Phil Griffin continued to admire Olbermann's on-air talents, and helped to bring him back to MSNBC in 2003, to do a new show called 'Countdown.'"
This does not fit the Narrative.
Make no mistake: Phil Griffin is a Suit. While Keith was enduring countless episodes of Sturm und Drang, Phil was gliding up the 30 Rock elevator. He left that early CNN gig for the Today show in the Eighties. He was a producer for NBC Nightly News in the Nineties, and jumped to MSNBC when it launched in 1996. He reached Senior Veep in 2005, and finally MSNBC President in 2008.
But unlike, say, CNN's recently departed Jon Klein, we can't find any evidence of Griffin making in-house mortal enemies. He certainly has had to ride herd on a cantankerous on-air staff, telling MSNBC's hosts to play nice with each other. And he definitely has had to deal with criticism from the traditional NBC News crew that MSNBC was staining their reputation — Olbermann and Chris Matthews were pulled from election hosting in 2008 after it got too hot in the kitchen.
That kind of intramural sniping is very easy to document, by the way. And it's even easier to document that Olbermann, Tweety, Rachel and Lawrence O'Donnell were all on board for MSNBC's midterm coverage last week. And that Griffin is quite proud of the new Lean Forward slogan, with a marketing budget and Spike Lee commercials to promote it.
This doesn't seem to back the charge that Griffin is desperately trying to trim MSNBC's sails before Comcast takes over from GE. If anything, he's presenting the new regime with a fait accompli.
There is, however, one episode from Griffin's past that Kos and others use as a trump card: Phil Donahue's cancellation.
It's a messy, unpleasant story. MSNBC hired Donahue in 2002 to great fanfare, but after a spectacular (for MSNBC) debut, Donahue started hemorrhaging viewers. By the following spring, he was gone.
That would be Spring 2003. You know, the Iraq invasion.
Like Olbermann, Donahue was outspoken against the war. And soon after his firing, a consultant memo emerged telling MSNBC to tack Hard Right, to out-Fox Fox. Donahue, like Bill Maher eighteen months earlier, was considered Broadcast Suicide — "a tired, left-wing liberal out of touch with the current marketplace."
Oh, and despite the audience drop, Donahue still had MSNBC's highest-rated program.
Griffin, then MSNBC's vice president of primetime programming, is credited as Hatchet Man in the drama. Problem is, if you want to crucify him for firing Donahue on February 25, you also have to credit him for hiring Olbermann — Countdown debuted March 31. Eleven days after the bombs started dropping. In Donahue's timeslot.
Which, to put it delicately, seems to prove that Kos is full of shit: "Griffin had nothing to do with Olbermann's show," he wrote in July. "NBC/GE truly loves Griffin for holding the line against the transformation of MSNBC into a true progressive outpost."
Well, yeah, except that every time we find an example of MSNBC moving in that direction, Phil Griffin is in the room.
But let's grant to the Prosecution that Phil Griffin is also in the room when the pendulum swings back. If MSNBC had succeeded in building an audience to the right of Fox News, we find nothing on the record suggesting that Griffin wouldn't have been happy to lead the charge. Things just happened to work out in the other direction.
In other words: All Company Man Griffin has wanted is to ride MSNBC to success. The horse doesn't matter.
For all we know, maybe Griffin does bleed Blue, but puts career over politics. Or he bleeds Red, but prefers success over dogma. All we can say with certainty is that the Ballad of Evil Phil doesn't fit the facts we can muster. Phil Griffin may yet prove to be The Worst Person in the World, but before we gleefully toss our script at the camera, the interns will have to provide better evidence.
After we spent all day Sunday working on this fucking monster, MSNBC announced that Olbermann will return to Countdown on Tuesday. Kos remains full of shit.
Add a Comment
Please
log in
to post a comment