The Cult of Keith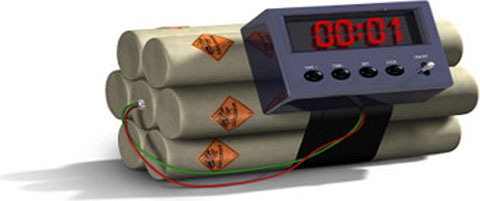 We've enjoyed Countdown, nightly, for about two years now. As our esteemed apocalyptic vulgarian FlyingChainSaw observes, it's like watching Crooks & Liars live. Although unlike our esteemed apocalyptic vulgarian, we think that's a good thing.
So we don't come to this mess from the perspective of an Olbermann-basher. We like Keith. He's fun. He's the only reason we even turn on the tube at 5pm Pacific. San Diego has a 24-hour jazz station. We have options.
That said, we agree with MSNBC management: Olbermann violated a clearly stated ethics policiy, and his suspension is not unwarranted. Olbermann did the same thing with Richard Wolffe, after all.
What disappointed us after the news broke Friday is that we're in the minority. At least among progressive bloggers — the progressive bloggers we also read daily as we scrape the Internets for story tips. They've ignored entirely the facts of Olbermann's suspension, and the principles behind it.
And in so doing, they've shown themselves to be hacks.
Let's take a tour…
Earlier today, MSNBC declared that it would be suspending progressive host Keith Olbermann because he violated NBC's ethics rules by donating to three Democratic candidates for Congress. As many bloggers have noted, conservative MSNBC host Joe Scarborough has donated to Republican candidates for Congress while promoting the same candidate on air, but has never been disciplined.
Well, um, no.
Here's the ethics policy for NBC News:
Anyone working for NBC News who takes part in civic or other outside activities may find that these activities jeopardize his or her standing as an impartial journalist because they may create the appearance of a conflict of interest. Such activities may include participation in or contributions to political campaigns or groups that espouse controversial positions. You should report any such potential conflicts in advance to, and obtain prior approval of, the president of NBC News or his designee.
It remains unverified that Scarborough received "prior approval" from management. But it cannot be documented that he didn't. If you're going to claim that NBC is selectively enforcing its own policies, that's a major caveat to overlook.
But not as major as this:
Why would Comcast be interested in silencing progressive voices?
Well, um, Comcast doesn't own NBC. GE does. Comcast's purchase remains pending — a not-insignificant fact that we would expect an organization like ThinkProgress to know. They later corrected their post, but such a fundamental error should never have been published in the first place.
If NBC News' policy extends to CNBC, the network may have a problem with Larry Kudlow, the anchor of CNBC's primetime show Kudlow & Company and co-anchor of the noon show The Call.
Well, um, no.
CNBC is not a division of NBC News. It reports directly to the CEO of NBC Universal. This is not generally known among the public, but well-known to media professionals. A website devoted to media ethics should be expected to know this — and knowing it, report it to its readers.
One would also expect a website devoted to media ethics to devote a few more pixels to Olbermann himself, rather than going on at length with an "everybody does it" angle.
Greg Sargent, WaPo, on the NBC News ethics policy:
This is a bit difficult to parse. But this does seem to say that those who are worried that their "standing as an impartial journalist" would be jeopardized by political activity should report it. Last time I checked, Keith Olbermann doesn't pretend to be an "impartial journalist."
Well, um, no. To the first part, anyway.
The "prior notice" clause is not difficult to parse at all. Nor does it provide exceptions for entertaining prime-time progressive blowhards. Rather than grant that Olbermann violated a clearly stated policy, Sargent instead goes for special pleading.
Oh, and cites Gawker (as do others) in support of his case:
But according to one NBC News insider, it's common knowledge within the organization that MSNBC's increasingly left-wing programming and personalities aren't required to abide by NBC News' exacting rules — if they were, it would be a much less bombastic and politically charged network.
Gawker doesn't name its source. If we were relying on Gawker to make that point — we suspect NBC News has more than a few "insiders" — we'd be a lot more circumspect about it.
Josh Marshall, TPM:
But of course all of this pales behind the larger point which is that Olbermann's job at MSNBC is to be an extremely opinionated commentator on politics.
Well, um, no.
The larger point is that Olbermann violated a clearly stated NBC News ethics policy, one Olbermann himself has agreed with when applied to Richard Wolffe. Hey, it's no secret where Olbermann's or Wolffe's sympathies lie. That's priced into the show, so to speak. But even sympathetic viewers can get squeamish upon learning that one of Olbermann's campaign contributions was made the same day he interviewed that candidate.
Marshall, again:
MSNBC's policy forbids employees from making donations to political candidates, unless they ask for permission to do so, in which it seems usually to be granted. That seems to me to undercut the principle behind the policy.
Well, um, yes and no.
Yes, to be proper about it, disclosure should be made to your audience, not just your management. But note: "You should report any such potential conflicts in advance to, and obtain prior approval of, the president of NBC News or his designee."
In strict journalism terms, you're not asking management for permission to donate to a campaign, but clearing any potential conflicts of interest before you do: "Hey, if I donate to this campaign or cause that doesn't come within a mile of my beat, will that be a problem?"
Or, in strict management terms: "I must confess I was caught flat-footed."
That's Olbermann himself, responding last year to news of Wolffe's consulting gig — for which Wolffe was suspended indefinitely from MSNBC.
And which undermines Marshall's general observation:
But against the canvass of the media and political world we're living in and everything that's happening in it, the scale of MSNBC's response this seems bizarre, arbitrary and excessive.
Except, of course, the scale of MSNBC's response is entirely equivalent to the scale of its response to a similar situation last year.
Marshall certainly proposes a valid, perhaps even fruitful, conversation. But let's not confuse that conversation with the facts of the case at hand.
And finally, Steve Benen at Washington Monthly:
But before Olbermann's critics get on their high horse, a little context seems appropriate. The MSNBC host donated a total of $7,200 in checks to help three candidates. He did so in his personal capacity; he disclosed his contributions; and did not encourage others to support these campaigns.
Well, um, not exactly.
Olbermann did not disclose his contributions: Not to his audience, and not to his management. They came to light because Politico looked into mandatory campaign-contribution reports. And Olbermann did interview a candidate the same day he contributed to that candidate's campaign.
And yes, Olbermann's $7,200 pales in comparison to News Corp's seven-figure gift to the Republican Governors Association. But as we said earlier, the Fox Does It Too defense does not reflect well on your standards of judgment.
Benen doubled down later Friday:
But an indefinite suspension without pay seems way over the top under the circumstances. We are, after all, talking about three checks — one each for three candidates.
We're also talking about three maximum contributions under campaign law. And, like others, Benen cites Scarborough and Pat Buchanan without noting that we have no proof they violated the "prior approval" rule.
It's profoundly disappointing that nobody among the progressives we regularly read saw this for what it was, and stated so clearly. Instead, everyone took Olbermann's side, even though Olbermann himself has been quiet since a brief pre-suspension defense of his actions.
We're left with the conclusion that if progressives like and agree with somebody, they're more than willing to cut him some slack — IOKIYAP. This isn't about principle — it's about Keith.
Hey, gang, there's plenty of room to discuss the policy, or the evil wiles of MSNBC management. But if you jump to friendly conclusions without laying out the facts at hand, you're nothing but a fucking hack.
And honestly, we expected better from you.
Add a Comment
Please
log in
to post a comment