Lean Back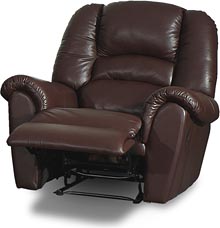 We've long said that Countdown is fine Left Coast dinnertime entertainment: We enjoy a good rant with our supper, and Keith Olbermann can deliver a stemwinder when he's moved.
We also certainly don't mind when a couple of our graphics show up on his program. Based on past performance, we should see another in 2012 or so.
But despite the slant of its primetime hosts, and its new slogan, MSNBC still styles itself a news organization, with certain ethical standards required of all journalists: You shouldn't kick bucks to a political campaign you're covering. And if you do, you should disclose it — preferably to your audience, but at the very least to your management.
Olbermann crossed that last line with three campaign contributions, and it seems that his boss learned the news from a Politico reporter. This is not, shall we say, A Good Thing. Said boss promptly "suspended indefinitely" the title character from "Countdown with Keith Olbermann."
And unleashed a shitstorm.
Of course the wingnuts had a grand time with the news, as gleefully as we would have greeted similar news regarding Beck or Hannity. Only Fox News doesn't have an ethical standard similar to MSNBC, so that ain't gonna happen.
What bothered us instead Friday was the outrage from the Left: How could MSNBC do that to Olbermann! Look at what Fox gets away with! Look at the campaign contributions by Morning Joe and Uncle Pat! Sign Michael Moore's petition to being Keith back! Boycott MSNBC!
Which, boiled down, appeared to be an argument that MSNBC lower its standards to that of a reviled political operation masquerading as a news channel. Is that really what you guys want?
It's moments like these that explain why we don't self-identify as a Lefty. Sure, we're fellow-travelers, but sometimes we prefer to take the scenic route.
For the record, Lefties would like you know that there's no love lost between Keith and the Boss, who would turn MSNBC into the Scarborough Channel if he could. An argument can be made that indefinite suspension is a punishment that doesn't fit the crime, or that it's merely a pretext in a power-play to rid the channel of Olbermann.
Which may well be true — and which doesn't change the ethics policy that Olbermann violated.
Nor do we have anything on the record that Scarborough or Buchanan violated that rule — that they didn't disclose their contributions to management beforehand. Remember, it's not that Olbermann forked over some cash, it's that he didn't tell anybody about it.
Just like Richard Wolffe didn't tell anybody about his consulting gig that got him indefinitely suspended from Countdown for a month or two last year. Here's what Olbermann said about it at the time:
I must confess I was caught flat-footed. I do not know what the truth is; my executive producer and I have spent the last two months dealing with other things… but what appears to be the truth here is certainly not what Richard told us about his non-news job.
Wolffe did eventually return to Countdown, and his consulting gig became part of his boilerplate intro. Regular viewers also know that the length of Howard Dean's supersized disclaimer is a running gag on the show.
Olbermann has also made it very clear, repeatedly, that Freedom of the Press Belongs to Those Who Own One, to borrow a phrase from our J-school days. As a paid employee of MSNBC, he's exercising General Electric's First Amendment rights, not his own. MSNBC cannot "silence" Keith Olbermann, since Olbermann is perfectly free to chat it up on his own time.
Lefties rallying around Olbermann are undermining these very principles, principles that Olbermann himself has been outspoken about, when instead they should be applauding MSNBC for upholding standards that Fox News doesn't even bother with. Even Rachel Maddow understands that, closing her show last night with a segment detailing the numerous political contributions by Fox hosts and paid contributors — not to prove that MSNBC treated Olbermann unfairly, but that at MSNBC those things are not done.
Is Countdown a Lefty echo chamber? Well, sure — we have yet to see Arianna, or Kos, or Chris Kofinas add anything to the conversation, and it would be a better show without them. But the content of the show and its service to journalism is another discussion. Here the case is, or should be, very simple: NBC News has an ethics policy, and Olbermann violated it. End of story.
And to that Countdown boycott, no worries — the show sucks when Olbermann isn't there. The audience will take care of itself.
Add a Comment
Please
log in
to post a comment