Postmortem (Early Edition)
As you enjoy the festivities in Washington, please permit me to throw ice water on your fun.  I do this because, of course, we all know what is coming.  Barring a miracle, the Dems will lose the House, and the Senate will probably hang on the vote of Joe Lieberman, of all people.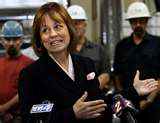 Not a surprise, in light of the usual performance of out-parties in midterms.  But the whos and hows this time around make my head hurt.  For example, take Sharron Angle (please).  When asked about her views on foreign policy, her response left something to be desired.  Like, for instance, an actual thought.  She said: "I'll answer those questions when I'm the Senator." 
She said this the week before an election.  And she still could win.  Oh, to be a fly on the wall when she goes in for the inevitable policy boot-camp Jim DeMint is going to run for his new minions.  That will be hilarious.
Seriously, though:  The Dems had momentum and a clear mandate for change.  They passed sweeping legislation — not a whole loaf by any stretch, but something tangible.  And they are about to lose to a bunch of people who are as content-free as a documentary on the life of a mayfly.  And not just content-free, but people who actually break into fits when asked to think about something.  What this says about politics, and about Americans, is almost too frightening to contemplate.  It is enough to say that, if ever there was a moment for sanity, it is now.
With that: OPEN THREAD!  Laugh to keep from crying, everyone.
Add a Comment
Please
log in
to post a comment