Today, We are All Drooling on our Boobs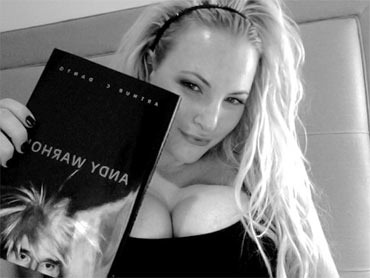 When the right eats its own, we laugh.  My enemy's enemy is still my enemy, but its a lot more fun to watch them fight it out from afar than to be all up in the tussle, you know?
Anyway, Megan McCain went and dropped some very commonsensical knowledge regarding "nutjob" Christine O'Donnell, who is a candidate for Senator from Denmark or something, when she said:
Christine O'Donnell is making a mockery of running for public office. She has no real history, no real success in any kind of business. And what that sends to my generation is, one day, you can just wake up and run for Senate, no matter how [much] lack of experience you have.
While this statement is humorous because you could easily change "running for public office" to "being a tv pundit" and it would apply to McCain, the reaction of other conservative bloggers to McCain's claim is better:
this self-indulgent set of mega-breasts doesn't belong anywhere near a TV studio commenting on anything.
and
I swear, if Meghan McCain gets any dumber she'll be drooling on her boobs
Ha ha everyone, let's all make fun of McCain for her unfortunately large breasts.  How awful it must be for her to live with such pendulously attractive Hindenbergs coming off her body!
Anyway, the lessons we have learned from this are that Christine O'Donnell is unqualified, Megan McCain is not a great pundit, and a lot of other conservatives are misogynistic dumbasses who resort to ad hominen attacks because they have nothing substantive to say, which are not really lessons learned because we learned them a long time ago, when Conservatism was born and a whole slew of unqualified leaders, bad pundits, and misogynists decided it was a good idea for a political party.
Megan McCain's Breasts Back in the Spotlight After O'Donnell Attack [AOL]
Add a Comment
Please
log in
to post a comment