Benoit Mandelbrot (1924-2010)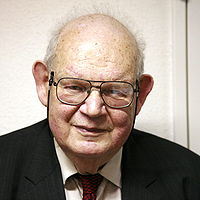 An amazing life:
Benoit Mandelbrot, who died on October 14 aged 85, was largely responsible for developing the discipline of fractal geometry – the study of rough or fragmented geometric shapes or processes that have similar properties at all levels of magnification or across all times.
Before Mandelbrot, mathematicians believed that most of the patterns of nature were far too complex, irregular, fragmented and amorphous to be described mathematically. Euclidian geometry was concerned with abstract perfection almost non-existent in the real world. Mandelbrot's achievement was to conceive and develop a way of describing mathematically the most amorphous natural forms – such as the shape of clouds, mountains, coastlines or trees – and measuring them. His work has become the foundation of Chaos theory – the mathematics of non-linear, dynamic systems.
Add a Comment
Please
log in
to post a comment