Paladino Hearts the Tea-Bagging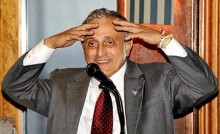 As everyone by now knows, Carl Paladino, the GOP candidate for New York Governor, went on an anti-gay rant on Sunday to a crowd of Hasidic Jews, saying that he didn't want children "brainwashed" that homosexuality is acceptable. The next day he "clarified" his comments by explaining it is because gay pride parades are disgusting and terrible and feature "men in Speedos bumping and grinding" against one another and that his opponent Andrew Cuomo was wrong to bring his daughters to the parade. (This was a few days after the man who has two families went on a bizarre tirade describing Cuomo's legendary prowess in remarks to reporters. Somebody has a dick fascination. Or tea-bagging?)
Well, naturally it's time for the other shoe to drop. The hypocrisy wing-tips fit him so nicely.
The New York Daily News is reporting that Paladino, a property owner in Buffalo, was more than happy to be the landlord of two gay bars, Cobalt and Buddies II.  No exact figures on how much he profited from the gheyz.  Oh, and his son was one of the managers of Cobalt, a rocking nightclub, which according to the Daily News, was:
catering exclusively to gay clientele, holding drag queen nights and featuring "boy-tenders" behind the bar.

A March 2005 review of Cobalt in the Buffalo News described it as "Way Gay," noting, "The queens, the techno, the cocktails, the kind of gyration normally confined to Manhattan was in full flaming force at Cobalt."
Then there's Buddies II, which according to the Huffington Post had a float in the Buffalo Gay Pride parade and was more of a local watering hole for bears than a flashy club.The Daily News says:
Buddies II was housed in a Paladino building on Franklin St. in Buffalo in 2005 and 2006, records show. Operating under the name Queen City Entertainment, it described itself as a "bar where anyone and everyone is welcome (and) prejudices are left at the door."
In other Empire State news, two more suspects were arraigned in the horrific and brutal torture of three gay men by a gang of ten men.
Add a Comment
Please
log in
to post a comment