Life, Liberty, and Property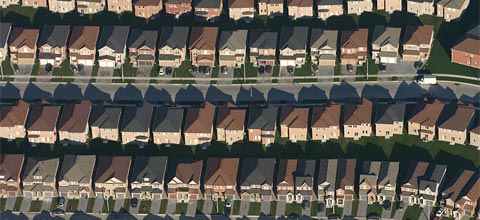 We've largely been ignoring the latest episode of Big Shitpile, mainly because, well, it doesn't involve Bozos or Nazis.
Turns out we were wrong.
If, like us, you're just tuning in to Dancing With The Banks, foreclosures have largely been put on hold nationwide because of red tape. And by "red tape", we mean that nobody can prove they own the foreclosed mortgages.
This isn't just a matter of robo-notaries rushing through the paperwork. It's a matter of the paperwork itself missing a few papers. Like, oh, deeds:
During the height of the housing bubble, investment banks were churning out mortgage bonds in such a frenzy, sometimes the assignments never got executed and mortgage notes never got delivered… It was inevitable that the fast and loose and slightly documented culture would not stop at the mortgage originator but stretch all the way through the process.
Presumably somewhere at the bottom of a given shitpile is the slip of paper that allows a bank to kick a family out of their home. But if you're imagining the Raiders of the Lost Ark warehouse, you're being too tidy — between bank closures and mergers, even some of the warehouses are off the map.
Economists, including those working for the government, will tell you this is all a Bad Thing, because—
Let's pause here a moment. How would you like that sentence to end? Something like, "because every American needs to be confident that foreclosure laws will be followed to the letter"?
Silly you.
No, this is all a Bad Thing because we can't kick out families and flip their houses fast enough.
We understand the macroeconomic view: the sooner losses are dealt with, the sooner markets can rebuild. We learned that a few shitpiles ago, during the S&L crisis. Consider it noted.
But please note this: If you're gonna give homeowners shit for not meeting their obligations, the least you could do is meet yours.
Add a Comment
Please
log in
to post a comment