Who Are These Men?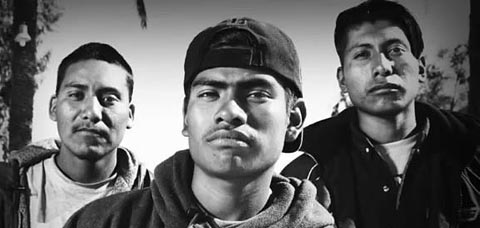 Damn, now we're obsessed again.
We briefly noted yesterday afternoon a photo of three young Latino men branded as ILLEGAL ALIENS in ads by Sharron Angle and David Vitter. The way these things work, we figured it was a stock photo — but looking for it quickly then, and devoting more time to it Wednesday night, we couldn't turn up the source.
So who are they? Are they models who signed off on a generic contract, and have yet to discover where their faces have turned up? Are they actual illegal immigrants, perhaps photographed for an L.A. Times feature? What's their story?
Jon Chait at TNR had the same question yesterday afternoon:
What I can't help wondering is, who are these guys? I doubt they're actually illegal aliens, because then of course the ad-maker who's decrying illegal immigration would also be using illegal immigrants…

If the economy doesn't turn around, modeling shoots for anti-immigration ads is going to be a boom job market for young Latino males.
But Chait is playing it as if this was a custom photo shoot for the ad. We don't think so, even allowing for economies of scale. It's a nice photo — and just look how tacky the staged video shots are.
The purpose of this particular photo in this particular context isn't in doubt, however — unless you're a certain Cornell law professor who thinks we're full of shit:
Now I see at Memeorandum that the left blogosphere is in full fledged accusation mode — led of course by Think Progress and Greg Sargent's sidekick at WaPo — accusing Angle of using "racially-tinged" images in television advertisements.

I'll have more later, but this is a good sign that the Democrats and their media helpers are so desperate in light of recent polling showing Angle in the lead, that they have to add a pathetic charge of racism to their "extremist" rhetoric.
We might say that Professor Jacobson's pathetic defense is a good sign that the racism charge is true, but that kind of argument doesn't go very far: We're right, he's wrong, end of discussion.
Which leads us back to the photo itself. Rather than argue over intent, why don't we nail down a simple fact to provide a basis for conversation?
And so, before this gets out of hand, we have a simple request for the Angle and Vitter campaigns: Release the photo. If you bought it, tell us the source. If you staged it, tell us the circumstances of the shoot, whether the men signed modeling agreements, and whether they knew the purpose of the product.
That's all we ask. And honestly, we think it's in your interest to respond. Don't make us haul out another billboard.