HorseGate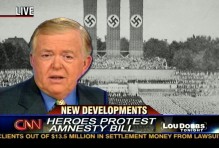 Well, if it's Thursday it must be another domestic worker drama affecting a right-winger.  Today it's former CNN anchor and current Tea Party darling Lou Dobbs, best known for his vile diatribes against undocumented workers and the people who employ them.
According to The Nation, one of the few media outlets that still does hard-hitting investigations, Dobbs has employed at least five illegal immigrants for years to take care of his daughter's champion horses in Florida and Vermont, and to maintain his million dollar estates in New Jersey and Florida.
Dobbs, who has said that employers of undocumented workers "should face felony charges" refused to comment on the story.
The Nation spoke with several men who had worked as grooms at his estates, and they reported they worked 60 to 70 hour weeks of back-breaking labor for around $500 a week, which is just around minimum wage. (Federal minimum wage is $7.25 an hour, if you're like Michael Steele and don't know what it is).  The grooms take care of the horses (which are worth over $1 million each) day-in, day-out, at the stables, and travel with the horses to Dobbs' 22-year-old daughter's competitions.  The grooms reported that she would occasionally give the workers $100 tips after they spent weekends with the horses at her equestrian jumping events.
In terms of living quarters:
At the Vermont stable that cared for the Dobbs Group horses from spring through autumn while Gomez worked there, the workers lived right at the horse barn. This arrangement has benefits, as Gomez points out; for example, the workers don't have to pay rent. However, according to Gomez, their quarters—a two-bedroom apartment on the top floor of the barn—were extremely crowded. When Gomez lived there, nine workers were packed into the small apartment, and he had to share a bedroom with four of them.
The Nation also spoke with a man in Florida who was the gardener for Dobbs' West Palm Beach estate, working without papers more than 50 hours a week without overtime for three years:
Ortega recalled meeting Dobbs one day while he was working on his garden: "He told me, in Spanish, that his name was Luis."
Stay tuned. Dobbs has yet to blame this on Jerry Brown.
Add a Comment
Please
log in
to post a comment