Talibunny Visits the Castro (Sort of)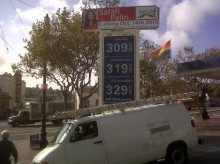 The No-Longer-ARCO/BP gas station that's on the corner of Castro and Market across from Harvey Milk Plaza and catty-corner to the Twin Peaks Tavern, one of the oldest gay bars in SF [with some of the oldest gay men, badump!] apparently decided it wanted to invoke a boycott, as this morning its owner allowed The Liberty Freedom Foundation* to put up a billboard advertising the Snowbunny grifter's speech on Oct. 14 at San Jose's Center for the Performing Arts.
Victor Cocchia, executive director of this bizarro foundation, told the San Francisco Chronicle that "the Castro is supposed to be about a message of tolerance, and we hope that tradition stays.  Hopefully, people will listen with an open mind…at least they heard it straight from us."
I'll go by the station this evening and report as to whether the sign is still there or if a mob of gheyz have torn it down in response to the middle finger from Palin supporters.
*No, really, click on the linque, their website is hilarious…
Add a Comment
Please
log in
to post a comment