Just Slip a Tongue Under the Tree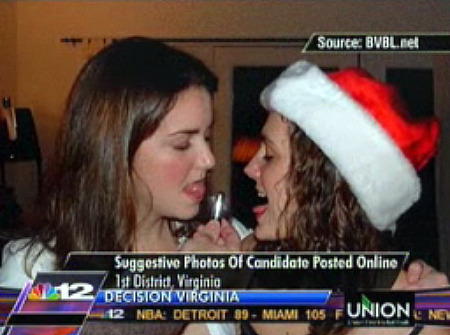 Damn, glad we got BozoGate in before this dropped…
Democratic Virginia House candidate Krystal Ball (yes, that's her real name) went on the offensive Wednesday after racy photos of her surfaced online this week.

The photos, which were taken at a costume party, show Ball wearing a Santa hat and a leotard (she's on the right, here). In some of the photos she appears to holding a leash attached to the neck of a man she identified this week as her ex-husband…

Ball, 29, says the photos were taken six years ago, just after she graduated from college, and she accused her opponent, Rep. Rob Wittman (R-Va.), of releasing them on the Internet as part of a smear campaign.
Wait, wait, wait — her opponent released them? As a smear campaign? Dude, you don't know the American electorate. Or at least the portion that we count among our readership.
Add a Comment
Please
log in
to post a comment