When Proofreading is Outlawed, Only Outlaws Will Have Proofreaders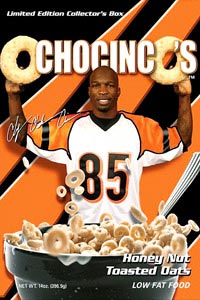 And when they say "Limited Edition Collector's Box," they ain't kidding:
Charity-minded callers are getting intercepted by a sex phone line because of a misprint on Cincinnati Bengals wide receiver Chad Ochocinco's namesake cereal boxes.

The phone number is supposed to connect callers to Feed the Children, which benefits from sales of "Ochocinco's." But because the box has the wrong toll-free prefix, they get a seductive-sounding woman who makes risque suggestions and then asks for a credit card number.
That's odd — when we called and asked for "Honey Nut Toasted," that's exactly what we expected.
Add a Comment
Please
log in
to post a comment