Eye the Friendly Skies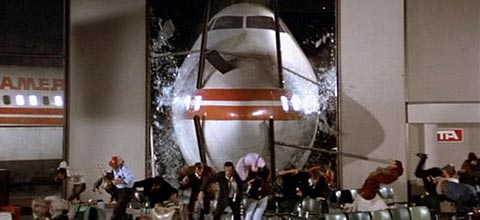 Welcome to the Stinque Panel Discussion on Issues Concerning Stinque Panelists. Our first guest this morning is the Transportation Security Administration, here to tell us about an exciting career opportunity:
The Behavior Detection Officer (BDO) program utilizes non-intrusive behavior observation and analysis techniques to identify potentially high-risk passengers. BDOs are designed to detect individuals exhibiting behaviors that indicate they may be a threat to aviation and/or transportation security. The program is a derivative of other successful behavioral analysis programs that have been employed by law enforcement and security personnel both in the U.S. and around the world.
TSA's BDO-trained security officers are screening travelers for involuntary physical and physiological reactions that people exhibit in response to a fear of being discovered. TSA recognizes that an individual exhibiting some of these behaviors does not automatically mean a person has terrorist or criminal intent. BDOs do, however, help our security officers focus appropriate resources on determining if an individual presents a higher risk or if his/her behavior has a non-threatening origin. Individuals exhibiting specific observable behaviors may be referred for additional screening at the checkpoint to include a handwanding, limited pat down and physical inspection of one's carry-on baggage. Referrals are based on specific observed behaviors only, not on one's appearance, race, ethnicity or religion.
Specific observable behaviors? Could you give us an example? Say, from January 2008?
TSA's behavior detection and document checking officers have been busy this month. Just last week, a TSA behavior detection officer in Florida observed an individual in the public area of the airport, prior to the checkpoint, displaying suspicious behavior and contacted the airport police.
The police interviewed the individual, who was not traveling. During the interview, the individual threatened the officers and became combative.
Further investigation by law enforcement revealed that the individual has a felony probationary status and previous criminal history including loitering, robbery with a weapon, disorderly conduct, resisting an officer and battery. The police removed the individual from airport property.
Sounds like a successful intervention! Was the suspicious individual combative before he was interviewed? Did the suspicious individual's felony probationary status preclude him from being in an airport?
Oh, we're sorry, our producer is telling us we need to move on to our next guest, or he'll rickroll our earwig. CBS News, apparently you have a bone to pick with TSA. Could you tell us what you said last May, before your last viewer deserted you?
A new government report released Thursday reveals that federal officers with the Transportation Security Administration (TSA) who are tasked with the job of spotting terrorists at airports have little training.
As CBS News Chief Investigative Correspondent Armen Keteyian first reported on Wednesday the TSA's behavior detection officers have never spotted a terrorist. Furthermore, the Government Accountability Office discovered that at least 16 known terrorists travelled through 8 different U.S. airports 23 times where the program had been implemented.
The GAO report says the TSA implemented its behavior detection program, which now costs taxpayers about $200 million annually, without first determining if there was any scientific valid basis for using it…
According to the GAO, the TSA's behavior detection officers typically work in teams of two and "training includes 4 days of classroom courses, followed by 3 days of on-the-job training."
Well, there's American efficiency for you! Just ask our next guest, Kathy Parker. She was getting ready to fly last month from Philly to Charlotte, North Carolina, when the strangest thing happened!
A female Transportation Security Administration officer wanded her and patted her down, she says. Then she was walked over to where other TSA officers were searching her bags…
In a side pocket she had tucked a deposit slip and seven checks made out to her and her husband, worth about $8,000.
Her thought: "Oh, my God, this is none of his business."
Two Philadelphia police officers joined at least four TSA officers who had gathered around her. After conferring with the TSA screeners, one of the Philadelphia officers told her he was there because her checks were numbered sequentially, which she says they were not.
"It's an indication you've embezzled these checks," she says the police officer told her. He also told her she appeared nervous. She hadn't before that moment, she says…
When she got home, her husband of 20 years, John Parker, a self-employed plastics broker, said the police had called and told him that they'd suspected "a divorce situation" and that Kathy Parker was trying to empty their bank account. He set them straight.
"I was so humiliated," she said.
Funny story, Kathy! But all's well that ends well, right? And don't you feel safer knowing that those entry-level TSA psyops agents are protecting your marriage as well as American aviation? Nice TSA spokeslady, we'll let you have the last word:
TSA spokeswoman Ann Davis said the reason Parker was selected for in-depth screening was that her actions at the airport had aroused the suspicion of a behavior detection officer, and that she continued to act "as if she feared discovery."
"We need to ascertain whether fear of discovery is due to the fact a person is concealing a threatening item, be it a dangerous weapon or some kind of explosive," Davis said. "If the search is complete, and shows individuals not to be a threat to the aircraft or fellow passengers, they are free to go."
But why call police? Davis said, "Because her behavior escalated."
Add a Comment
Please
log in
to post a comment