Welcome to the New New Plutocracy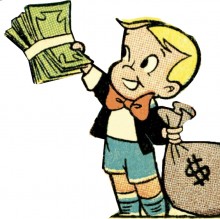 In news that will make you sigh and say, "well, shit" because you already all knew it, the 2009 census data shows that the gap between rich people and the poors is bigger than ever.  You are welcome to greet this news by either:
Donning your suit made from diamonds and the skin of poor people, and dancing the foxtrot, for celebration.
Wishing this news were printed on real paper, so you could burn it for fuel. You'll  subsequently get kicked off the public library's computer because that one librarian always thinks you're masturbating, because sometimes you masturbate at the library, because it is a quiet refuge in your crowded shitstain of a life.  Because you are poor.
Clinging to the last vestiges of middle class existence.  Wishing haplessly to be elevated into the ranks of the top 1%, but realizing you'll probably die penniless and dirty, of scurvy or cholera or something.
Anyway, if you are part of the shrinking middle class, uh congratulations?
Add a Comment
Please
log in
to post a comment