Stephen Colbert May Play Stephen Colbert at Congressional Hearing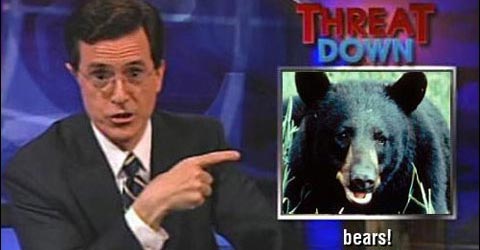 While the upcoming Rally to Restore Sanity/March To Keep Fear Alive is supposedly scaring the bejeezus out of Democrats for stealing focus next month, it seems at least one of the headliners will be slipping into DC early. Like, Friday:
Comedy Central host Stephen Colbert is slated to testify at a congressional hearing Friday on immigration titled "Protecting America's Harvest."

One Republican source said Colbert will be testifying "in character," the Bill O'Reilly-like muse Colbert uses for his show.

A House Judiciary Committee spokeswoman, confirming Colbert would testify, said the hearing matter was a "serious issue… this is not a TV stunt."

Some Republicans have already expressed unhappiness with Colbert witnessing at the hearing, thinking it would make light of a serious issue.
The background is that Colbert did interview United Farm Workers President Arturo Rodriguez in July, and apparently later participated in the UFW's Take Our Jobs program — spending a day in the fields with Zoe Lofgren, who chairs an immigration subcommittee. That he might now testify about his experience isn't beyond imagination.
But in character? That's not beyond imagination either, but we have a hard time buying it. Especially when the rumors are spread by Republicans, who have plenty reason to discount his appearance. Get back to us when a Demrat confirms.
Add a Comment
Please
log in
to post a comment