Christine O'Donnell Fantasizes About Getting Tapped By Joe Biden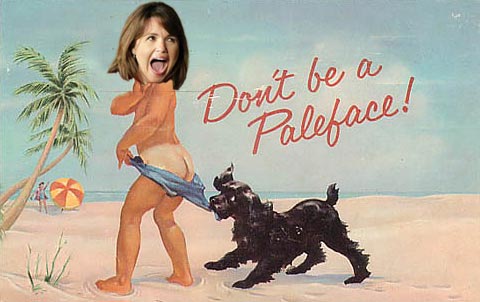 Okay, we're starting to stretch here, but Politico has done what Politico does best: Dig up the dirt…
Kristin Murray, who left her position in the state party to serve as one of several campaign managers for O'Donnell during that [2008 Senate] race, said warning bells went off in June 2008 when the two were discussing cell phone plans.

"She told me that she thought Joe Biden tapped her phone line," she said.
And now that we've switched your bait, let's listen in on her surefire campaign plan:
The tea party giant-killer who knocked off Rep. Mike Castle Tuesday is barely recognizable to [former aides]. They remember a candidate who was less interested in conservative causes than scoring a television deal, one who suggested dodging campaign vendors, believed she could give the keynote speech at the Republican National Convention and fixated on a harebrained idea to distribute tens of thousands of two-ounce suntan lotion packets to voters…

O'Donnell's idea: To affix a clever slogan to packets that read: "Don't Get Burned By Higher Taxes. Vote Christine O'Donnell 2008" and distribute them at local parades.
That's actually kind of cute, in a student-body president kind of way. But not as cute as the punchline:
"It was an irresponsible idea," said David Keegan, who served as O'Donnell's financial officer. "And half the people in the street thought she was throwing condoms out of the truck."
Sounds like a missed bet: "Don't Get Fucked By Higher Taxes" has a nice ring to it.
Add a Comment
Please
log in
to post a comment