Stinque Recipe Challenge
I will post the next step in the nachos recipe now, in case anyone is cooking along. You need to make the guacamole now, or soon, so it can sit in the refrigerator and come together. As I progress, I will add photos and commentary to this post.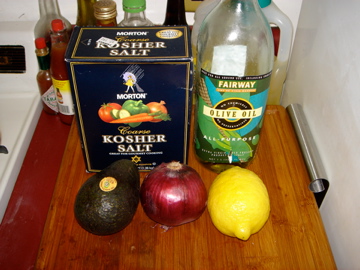 For reasons explained earlier, tonight it's nachos. The recipe for the refritos, one of the toppings, is here.  Now, we move on to the quacamole:
1 avocado
1/4 lemon, juiced
2 tablespoons chopped onion (I use more)
1/4 teaspoon salt
2 tablespoons olive oil
Cut the avocado in half. Remove the seed, and scoop out the pulp into a small bowl. Use a fork to mash the avocado (I like to smash the onions along with the avocado because it releases their flavor). Stir in lemon juice, onion, salt, and olive oil. Cover the bowl, and refrigerate for at least 1 hour before serving.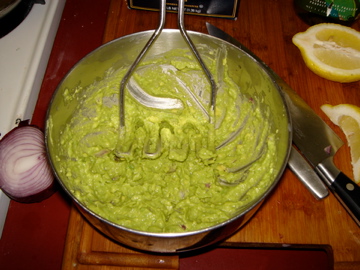 I can't explain it, but my upbringing taught me that red onion goes in the guacamole and white/yellow onion goes on the nachos. You, of course, can mix it up.
The two most complex toppings are now made and in the fridge – you can always make them in advance. Now it's on to the chopping and final assembly.
So here we are – lets get this thing on the table: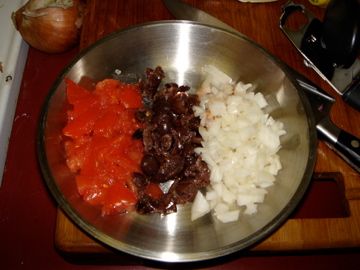 Chopped seeded tomatoes, diced olives, and diced white onions.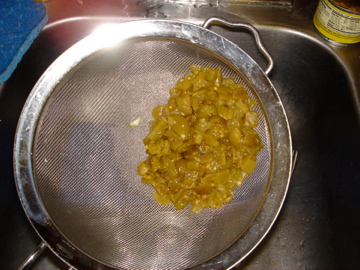 Drained chopped chilies (courtesy of Old El Paso):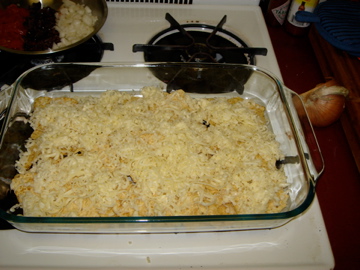 Chips covered with jack cheese – four minutes in a 250 degree oven, then turn it around for four more minutes: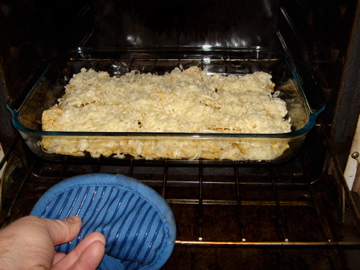 All done now, so it's time to put some toppings on this thing: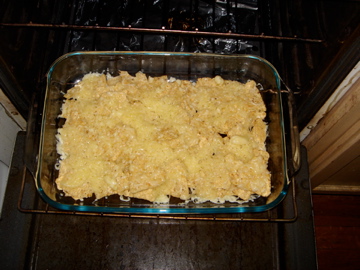 And yes – it's done now: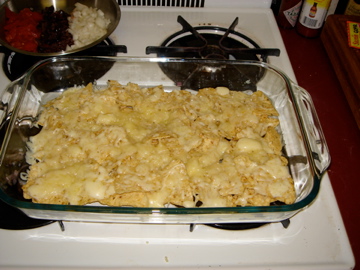 Another shot of it sitting on the stove – don't know why I did that: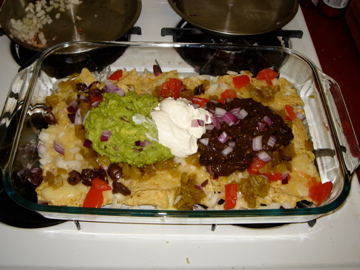 And here we are at the end – refritos on the right, sour cream in the middle, and guacamole on the left – and the whole thing is covered with onions, olives, tomatoes, jalapenos, and a bit of salt.  Almost forgot – at the end, sprinkle it with Sazón Goya con Azafran. And it was delicious. Try it out for yourself.
Add a Comment
Please
log in
to post a comment