Stinque Recipe Challenge
I was going to dive back into Mastering the Art of French Cooking, but the girlfriend wants nachos.  If you wish, go grab the ingredients and cook along with me.  I am cooking from scratch and making it up as I go along.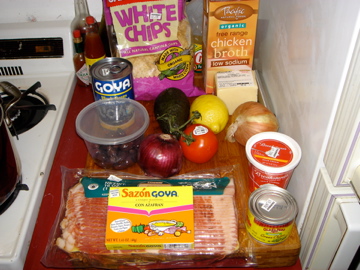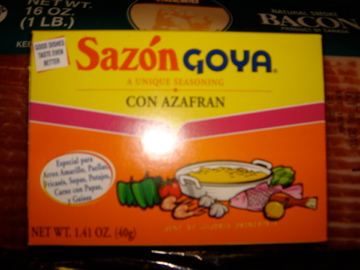 For the refritos (to be used as a topping): one can of Goya frijoles negros, one can chicken stock, one tsp. salt (but only because I mistakenly bought low sodium organic chicken stock), half a can of water, two small bay leaves, one packet Sazón Goya con Azafran, and one strip of bacon.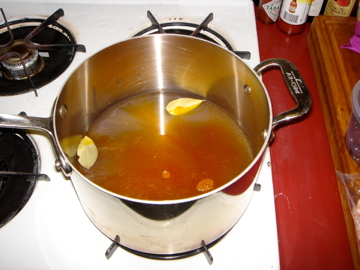 Put everything but the bacon into a saucepan, bring to a boil, then lower the heat to a bare simmer, put the bacon strip in, and put the cover on so as to just allow the pot to vent.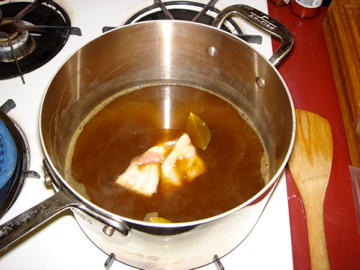 The plan is to slooowly cook the beans down until I can mash them.  The apartment smells amazing.
Other ingredients:  bag of organic corn chips, one small red onion, one small white onion, one lemon, one avocado, one tomato (for garnish), one can chopped green chilis (for garnish), calamata olives (for garnish), one small container sour cream (for garnish), and jack cheese (in my case, Australian jack cheese that Fairway had on sale).
The next and final post will contain the rest of the cooking steps and show the assembly.
UPDATE: Cooked the beans down for about two hours, and now they are about the consistency of pancake batter. Lots of stirring at the end to make sure they didn't scorch.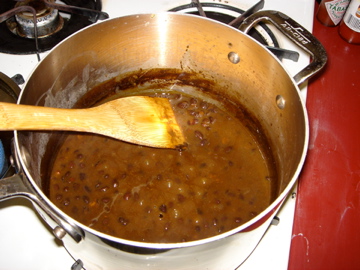 I plan to let them cool to room temperature, then refrigerate them until I'm ready to back the chips and cheese. And I can't find the second bay leaf. Ack.
Add a Comment
Please
log in
to post a comment