Delaware Cock-Fighting Season Opens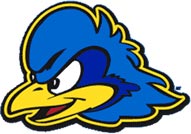 Delaware Republican Senate primary candidate Christine O'Donnell, whom we've managed to ignore despite her pleas for America to quit whacking off — think of the unconceived children, people! — is questioning her opponent's sartorial choices:
"You know, these are the kind of cheap, underhanded, un-manly tactics that we've come to expect from Obama's favorite Republican, Mike Castle," said O'Donnell. "You know, I released a statement today, saying Mike this is not a bake-off, get your man-pants on."
Good advice. And if you hit Old Navy, you can be confident in a comfy fit.
Add a Comment
Please
log in
to post a comment