How We Learned to Stop Worrying and Love the WorldNetDaily Radiation Detector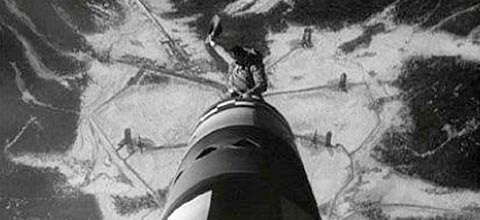 Our afternoon guest columnist is WND publisher and mustache-wax hoarder Joseph Farah.
The Boy Scouts' motto says it all: "Be Prepared!"
But in an era in which the threats to your safety include mass acts of terror, suicide bombers and potential nuclear and biological attacks, it's easy to feel that in some situations, no amount of preparation will make the slightest bit of difference.
Actually, even amid such catastrophic circumstances, the smallest act of preparation could make all the difference for you and your loved ones. Through a tiny but powerful technological device, you can accurately and instantly measure if you've been exposed to radiation and know whether you need to seek medical treatment.
It's non-electrical, no bigger than a postage stamp and nestles nicely in your wallet. Best of all, WorldNetDaily.com will give you one of these items valued at $8 for FREE. Right now — but only for a limited time — whenever you order a non-subscription product from the WND Superstore, (Items $1 or less are exempt, and there's a one-per-person limit), we'll give you a free RADSticker.™
"Why resign yourself to the notion that in the event of a nuclear disaster — accidental or intentional — you and your family must perish?" asks Joseph Farah, founder and CEO of WND. "As I've written before, as devastating as radiation is, it actually dissipates quickly, often within the first 24 hours. Beyond the blast, essential to survival is being able to immediately ascertain the radiation risk levels and determine what medical treatment — if any — you would need. There's nothing that you can carry on your person that accomplishes this feat quite like this amazing little device."
Add a Comment
Please
log in
to post a comment