Beckstock LIVEBLOG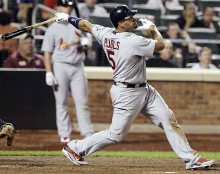 Seeing as I have never, in my life, watched Glenn Beck do ANYTHING (except of course in little snippets on the Daily Show and such), I guess I might be a totally neutral, unbiased observer of today's doings. Just like Albert Pujols and Tony LaRussa of the St. Louis Cardinals, who are going to observe themselves before tonight's game against the Nats. The announcement of their appearance yesterday caused quite the stir over that Yahoo's horsehide blog, Big League Stew, as evidenced by this sage comment:
This is non-political in the same way that MLK's speech was non-political. All Americans with strong morals will find nothing to disagree with. The only people who will be upset are the America-haters and non-Americans. Beck is a modern day Martin Luther King. In the future, we will remember Beck as the great patriot who stood for American values in the face of tyranny. LaRussa and Pujols will go down as brave warriors who withstood the persecution of the liberal media to stand on the side of liberty.
Boy.  This will be ten different kinds of stupid.  Play-by-play, post-jump.
1010 (ET): Having problems with the computer just now, during which there was a litany in re the mounments.  Particularly the Washington Monument, which was described as tall, strong and straight.  Yeah.
1011: And now Beck's on, with a slight jibe at the LAMESTREAM media.  And he's weepy already.
1013: Weirdest thing — this is not going out live on Fox News.  That is just… weird.  It's on C-SPAN, if you're looking for it.
1015: A Jew, two Native Americans and a minister walk into a political rally…  [And on behalf of the 1620 Families Of The Mayflower For Peaceful Tomorrows, I say to this preacher/Mayflower descendant: you do not speak for me!]
1019: Boy — this preacher is getting very Jesusy with the rabbi and the Natives behind him.  Yikes.
1022: Special Ops charity guy talking now.  Don't know much about the organization, can't speak to their outlook on life and such.  Why they would latch on to this is unclear.
1030: A half-hour of crowd shots reveals, to my shock and surprise, a very white crowd.
1035: Oh, here we go — Sarah Plain and Dumb takes her spot.  And the crowd goes wild!
1039: "Fundamentally [changing] America…."  They might get away with the whole "apolitical" bullshit, but with all the dog whistles out there today, there are dogs all the way in the Delmarva Peninsula howling.
1046: This is still C-SPAN only.  Fox News is not covering this gavel-to-gavel.  A quick-switch shows Cavuto talking with Ben Stein and three faceless people talking about eggs and ice cream.  WHY DOES FOX NEWS HATE AMERICA?
1049: Sarah has been talking up wounded vets for the last ten minutes, by the way.  Talking now about a prisoner in the Hanoi Hilton (other than our old friend, the Geezer).  When Sarah inevitably brings up his name, the applause was rather lukewarm, to be honest.  And there you have it — this crowd is not all that comfortable with John McCain.  That's your true snapshot of this crowd going along with this crap.
1053: She ends with a call to "Restore America."  She doesn't explictly say to what America should be restored to.  She didn't have to.
1056: Glenn Beck relates a conversation he had with God in the Fox News offices a few months ago.  Did you know that God has an Australian accent?  IT'S TRUE!
1057: Beck relitigating the Purple Heart's revival by FDR in 1933.  This is getting loopy.
1100: Now he's going to hand out medals.  Spare me.
1101: Martin Luther King is brought up again.
1104: Some Native American chief from Oklahoma (who, apparently, converted to Christianity) is giving out a Faith medal, or something, to some black minister from Houston who was at the 1963 March on Washington, for being a "covenant warrior for Christ."  And a vet with no hands gives him the medal.  All very moving, I guess.
1109: That minister calls Glenn Beck a "son of God."  Interesting choice of words, that.
1115: Preacher telling crowd what they should give to Glenn Beck, in Jesus's name.  Brother, have you lost your damn mind?
1117: Honestly — I cannot envision Tony LaRussa and Albert Pujols listening to this crap for three straight hours.  I don't know how I can.
1118: MEDAL NUMBER 2!  And it's given out by TONY LARUSSA!  Fuck me — this is the first time all year that I have been proud to be a Cubs fan.  Thank you, Glenn Beck!  THANK YOU!
1121: Oh, don't you dare give it to Albert.  DON'T YOU DARE!
1122: FUCK ME RUNNING — Albert Pujols gets a fucking award from his manager, through Glenn Beck.  This is beyond stupid.  This is beyond baseball.
1124: My God — I thought this was going to be a pointless exercise.  This award from Beck, through LaRussa, to Pujols, made it all worth while.
1129: Pujols thanks Jesus Christ, his family, and his agent.  Just like he got a Grammy or something.
1134: A fast-food container magnate gets the Charity Booby Prize.  I'd like a booby prize of my own, but of a different kind and nature.  He doesn't show up to pick it up — marriage of one of his 56 grandkids.  No class, dude.  Taken by a black woman, instead, who gives glory to God.  And Glenn Beck.  Seriously.
1141: Do you want to tell Glenn Beck that Martin Luther King was a dirty liberal, or should I?  OK, I will: HE WAS A LEFTY, GLENN! A LEFTY!
1145: The internal turmoil within the King family is not talked about much, but it comes to the fore every so often, through stuff like this.  And so here's Alveda King.
1149: During this Gospel music break, a thought: if Albert Pujols gets caught in re steroids, does he have to fork over his Beck Award For Achievement In The Field Of Excellence?
1152: Quick-check over at Fox — they're talking Cash for Clunkers and how something was somehow wrong with that.
1202: Alveda co-opting Uncle Martin.  Like I said: Thanksgiving around the King table is always fun.  This year might be more fun than others.
1204: Oh, and she comes with the marrying of the gays and the ladybits and the praying in the schools.  Non-political veneer crumbling, crumbling…. gone.
1206: Weaving and bobbing.  She actually referenced "Lift Every Voice and Sing."  All over the map, this one.
1212: Fox News showing piece on 5th anniversary of Katrina now.  The contrast is just Kafkaesque.
1213: Beck's keynote now, about God.  Just me, but I would like to think that God is watching baseball right now, instead of this dreck.
1215: There's this camera crew sweeping in front of Beck's podium now.  Ted Demme must be doing a feature film or something.
1218: Beck going off on the American Experiment.  This is what happens when experiments go haywire, you know.
1224: Just finished reading the Gettysburg Address.  Now going into the Great Awakening.
1227: I'm going to call Moses "that man with a stick" from now on.
1237: More about individualism and honor and stuff.  My connection got balky in the last ten minutes, but there wasn't a whole lot there.  Now comparing himself to the guy on the Titantic who saw the iceberg.  This whole savior vibe of his is just exhausting.
1241: Asks America to gets on its knees, "with the door open for their children to see."  And then asks Americans to tell the truth.  And so forth.
1248: This is some good crazy-man ramble here.
1250: "Our kids will be slaves to a debt."  Dog whistle.  Also — tithe, dammit.
1253: "The truth will set you free."  Thanks, Glenn.  Good to know.
1256: Glenn calls for houses of worship to stand for what is right.  Explictly includes mosques.   Met with stone silence.
1302: He's bringing it in for a landing, with scores of preachers and stuff.  Lining up right behind him, just like preachers lined up behind Martin Luther King.  And Glenn is weeping again.  And God is the answer.  Cue the music, and roll the credits.
I do thank God for one thing — I survived watching this crap.
Add a Comment
Please
log in
to post a comment