Pam Geller to Bigots She Unleashed: Amateurs!
So, about That Thing we've been ignoring all day…
Here's some video from the Atlas Jugs anti-mosque rally, where some black guy made the mistake of looking Muslimish and was harassed and nearly assaulted by the collection of lily white mouth-breathers at the event.
Pam Geller, without whom we'd all still be talking about Anchor Blastocysts, isn't having any of it: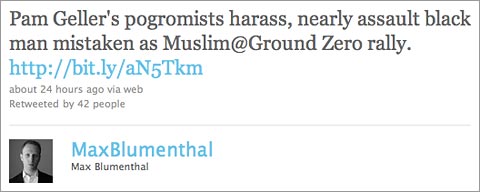 Max Blumenthal, notorious Jew hater, is lying, slandering and making up racist propaganda against me again. I have no idea what this rally is. I have no idea who these people are. I have no idea who organized this rally. Clearly, whoever organized this was careless, unprepared, shooting from the hip and harmful to the cause of freedom and compassion. I wasn't even in the state, nor did I know anything about this half-assed effort.
Now there's Plausible Deniability for ya: Incite the Yahoos to riot, and then get the hell out of town.
Max Blumenthal Lies Again About Geller [Atlas Shrugs]
Add a Comment
Please
log in
to post a comment