Sharron Angle, Closet Royalist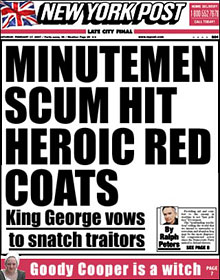 Mirabile dictu, the Times scores an interview with the elusive Sharron Angle:
Q. Do you think that politically you are too conservative for this state? Obviously not for the Republican primary, but for this state?

A. People have always said — those words, 'too conservative,' is fairly relative. I'm sure that they probably said that about Thomas Jefferson and George Washington and Benjamin Franklin. And truly, when you look at the Constitution and our founding fathers and their writings, the things that made this country great, you might draw those conclusions: That they were conservative. They were fiscally conservative and socially conservative.
We're not entirely clear what's "conservative" about overthrowing a legitimate government and denying the divine right of kings. Nor are we sure what's "socially conservative" about boffing all those fancy French ladies when John Adams isn't looking.
Then again, boffing your own slaves? Nothing more traditional than that.
[Image via Democratic Underground]
Add a Comment
Please
log in
to post a comment