Atlas Huggies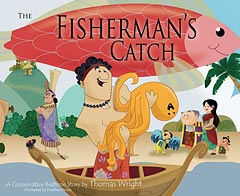 Our afternoon guest columnist is Thomas Wright, author of "The Fisherman's Catch: A Conservative Bedtime Story."
The original concept for this story came about in October of 2008 while trying to figure out a way to talk to one of my co-workers who could not understand why I felt taxing one group of people more than another was morally wrong. I finally came up with a story about a fisherman in a small village long ago that discovered a new way to fish with a net. He caught many more fish than before and became wealthy. A few men from the village decided to force the fisherman to spread the wealth. They went up with rocks and clubs and told the fisherman to give them half his catch each day for 'the good of the village' and thus the first government was born.
I then closed with these thoughts for my co-worker, "How is the government taxing you any different from a group of armed thugs taking what you have? Can you say no without horrible consequences?" and finally the statement that really hit home, "You realize that the moment you are okay with one group being taxed more then another in our society, YOU BECOME THE THUG!"
After 18 months of polishing the original terse concept, and with thanks to the beautiful artwork done by Heather Dixon, a wonderful children's book has been created that engages children's imaginations as it takes them down a path that shows the Conservative views on innovation, taxation, and social programs. The book does this in a way that even young children can follow and understand. It has helped me teach my own sons values such as working hard not only with their bodies but their minds as well. It has helped me teach them what governments role should be rather than what it has become. It has helped them realize that there is a difference between working for your money and having it handed to you.
I know that you will enjoy this book as many others have before you. Please purchase it here on our products page so that we can start on the next book in the series.
Add a Comment
Please
log in
to post a comment