Tea Party in Maine Eats Its Own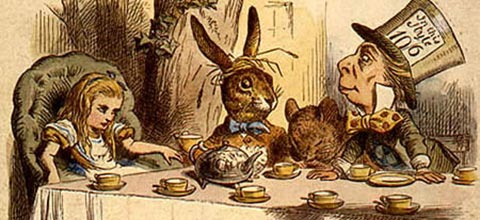 We'd like to thank an unknown commenter at teabagger website "Maine Refounders" for our headline, since it's Friday and we're suffering Low Testosterone Cleverness, and our shadow isn't picking up the slack. We'd also like to apologize for our use of "Tempest in a Teapot" here, but it can't be avoided:
On Tuesday night, Amy Hale — one of the leaders of the Patriots group — posted an odd message to the group's website, suggesting that she'd been forced to give up control of the site, according to media reports (the post has since been removed):

"I was cornered in the parking lot by 10+ people and told that bad things would happen to me if I did not give them the password and hand over Maine Patriots. Therefore, I no longer have control of Maine Patriots."
We hear "parking lot", we think "Lebowski", but let's continue:
Since Tuesday, other tea party sites in Maine have been hotbeds of conspiracy theories and accusations, with some claiming that Hale was undermining the movement and others suggesting that those who allegedly removed her from the Maine Patriots site are anti-tea party plants.
Look, if it helps y'all, we'll take responsiblity for the whole thing. The potato salad's getting cold.
Add a Comment
Please
log in
to post a comment