Prop 8 Overturned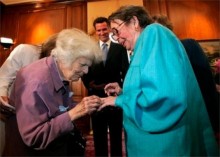 The ruling's in: Prop 8 is "unconstitutional under both the due process and equal protection clauses"…
Proposition 8 fails to advance any rational basis in singling out gay men and lesbians for denial of a marriage license. Indeed the evidence shows Proposition 8 does nothing more than enshrine in the California constitution the notion that opposite sex couples are superior to same sex couples.
But don't get your hopes up — opponents were already working the angles last night:
In court papers filed Tuesday night, lawyers for the Proposition 8 defense team asked Chief U.S. District Judge Vaughn Walker for a stay of his ruling if the outcome is to declare the law unconstitutional. The motion indicates that the Proposition 8 lawyers will immediately ask the 9th U.S. Circuit Court of Appeals to review the ruling if Walker rules against them.

"A stay is essential to averting the harms that would flow from another purported window of same-sex marriage in California," they wrote.
Wait — who's looking in windows?
Update, via SFL: Will they stay or will they go?
Plaintiffs, plaintiff-intervenor and defendants are DIRECTED to submit their responses to the motion to stay on or before August 6, 2010, at which time the motion will stand submitted without a hearing unless otherwise ordered. The clerk shall STAY entry of judgment herein until the motion to stay pending appeal… has been decided.
So, stay granted. Sort of. And you shouldn't be setting up a registry at Target, anyway.
Meanwhile, CNN reports it might take "a year or two" before the case reaches the Supremes. By which time Obama will have named one or two more impeccably nondescript justices.
Full text of ruling [Scribd, via Towleroad] • PDF version [USCourts.gov]
Add a Comment
Please
log in
to post a comment