Like Father, Like Son, Like Imaginary Grandchildren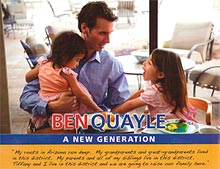 Ben Quayle, son of the former vice president and Champion Speler, would like to be Your Next Congresscritter from Arizona's Third:
As a part of his campaign strategy, Quayle has started to send out mailers emblazened with his slogan, "A New Generation." In one of these mailers, Quayle poses with two young girls — one seated in his lap and another holding his hand. Below the picture of Quayle and the children is a quotation by the candidate: "My roots in Arizona run deep. My grandparents and great grandparents lived in this district. My parents and all of my siblings live in this district. Tiffany [his wife] and I live in this district and are going to raise our family here."
Aren't the girls cute? Oh, by the way, they aren't his. Ben and the Missus are childless.
Add a Comment
Please
log in
to post a comment