First They Came For Our Parking Spaces, And We Said Nothing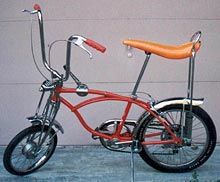 We're starting to think that Sarah Palin's bendy straws are a metaphor for our polity:
Republican gubernatorial candidate Dan Maes is warning voters that Denver Mayor John Hickenlooper's policies, particularly his efforts to boost bike riding, are "converting Denver into a United Nations community."

"This is all very well-disguised, but it will be exposed," Maes told about 50 supporters who showed up at a campaign rally last week in Centennial.

Maes said in a later interview that he once thought the mayor's efforts to promote cycling and other environmental initiatives were harmless and well-meaning. Now he realizes "that's exactly the attitude they want you to have."
The issue at hand appears to be a Commie bike-sharing program that undermines our values. Once you've established From each rider according to his ability, to each rider according to his need, the Republic is lost.
Add a Comment
Please
log in
to post a comment