Strange Days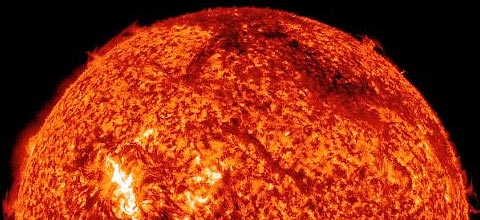 "Astroboffins are warning that a mighty 'eruption' of superhot plasma has been blasted out of the Sun directly at the Earth. The plasma cloud is expected to reach Earth beginning [Wednesday], possibly causing strange phenomena…"
To: Utah Freak Senatorial Candidate dba Nojo
From: Stinque Office of Quality Control
Re: Proposed Wednesday-morning post
Dear Sir, Madam, or Hamster,
We have received your draft, "Ten Unusual Things Caused by Sunspots," and are returning it because it does not meet our editorial standards.
The subtext of your list implies that prominent American politicians, under the influence of extraordinary stellar phenomena, might rail against the location of a metropolitan house of worship, or deny the citizenship of infants born in this country, or apologize to oil-company executives for being forced to accept financial responsibility for an industrial accident, or advocate state appointment of Senators, or call for the armed insurrection of our democratically elected government, or threaten Secession, or scribble notes on their hands like pampered high-school athletes who can't successfully complete a classroom examination.
While we understand that our contributors might sometimes engage in entertaining whimsy or Swiftian absurdity to make a point, we find these notions beyond the realm of the conceivable. You might as well suggest that a major television critic would accuse a Sunday-morning interviewer of mourning the deaths of our nation's enemies, for all the sense you make.
We advise that you proceed with your alternate proposal, "Animal-Rights Groups Condemn Researchers Who Annoy Monkeys With Glenn Beck Programs."
Sincerely,
The Sinister Cabal That Runs Everything
Add a Comment
Please
log in
to post a comment