Part of This Nutritious Buzz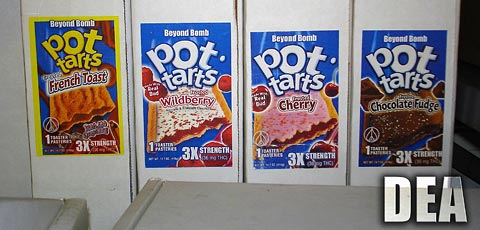 Attention, Cannabis-Americans! Dianne Feinstein wants to harsh your mellow:
In the name of saving children from candy-flavored methamphetamine, the U.S. appears on the verge of mandating more than a year in jail for anyone who cooks up a batch of pot brownies.

A bill by California Democratic Senator Dianne Feinstein that has recently reached the Senate floor has cannabis advocacy groups concerned that potent, medical-grade edible products would become a higher crime carrying weighter sentences, ostensibly to protect children from ingesting strawberry-flavored meth.
Wait: Meth?
We've fallen behind on our field research, but we're, um, reliably informed that candy-flavored meth is harder to find than journalistic integrity at Fox News.
On the other hand, California has a certain Toke Tally on the ballot this fall, which the good Senator happens to oppose, and delightfully packaged Schedule 1 herbs are popular at the local medical dispensaries.
The bill actually excludes "five grams or less of marihuana" — Dude! Retro! — from its new penalties, but separating the THC from the Cacao for measurement apparently is not an exact science. But no worries: We all know that local constabularies would give close calls the benefit of the doubt.
Add a Comment
Please
log in
to post a comment