The Black Knight Returns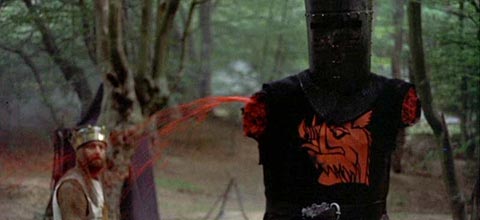 WorldNetDaily, the Black Knight of Birtherism, is not giving up.
Last time we checked in with them, they were undermining their own story about how the local Honolulu papers were snookered by the health department: The only way for Baby Barack to have been born in Kenya, we determined — based on WND's own evidence — was for Mom to have jumped the Mombassa redeye Friday night to meet the Monday filing deadline.
Well, okay, fine. WND will grant the point. But only so, like a magician releasing a bird from the other egg, they can amaze you with their latest feat: It doesn't matter.
Because even if Barack Obama was born in Honolulu, he's still not a natural-born citizen!
Whoa! Bet you didn't see that coming!
We'll wait a moment while everyone checks their tops. Are they falling over? Well, are they?
Damn straight they are. And never mind the street rolling up behind you.
Oh, we know what you're thinking: They're not trying to invalidate Hawaii's statehood, are they? Please. Not yet. Gotta save something for the encore.
Because — everybody in the front rows, cover yourselves — the argument they're presenting now is going to blow the case wide open:
An investigation by the authors found that according to correspondence from the original framers of the Constitution as well as multiple Supreme Court rulings and the legal writings that helped establish the principles of the Constitution, Obama is not eligible to serve as president since his father was not a U.S. citizen…

Article 2, Section 1, Clause 5 of the U.S. Constitution stipulates presidential eligibility, requiring the nation's elected chief to be a "natural born citizen."…

The Fourteenth Amendment to the Constitution specifically defines "citizen" but not "natural born citizen"…

However, no definition of "natural born citizen" — which is only used in the presidential requirement clause — was provided anywhere in the Constitution, and to this day the precise meaning of the term is still being debated.
See? See?!!! Barack Obama may be a "citizen" under the Fourteenth Amendment, but he's not a "natural born citizen" under the Constitution itself! He could have been born in Seattle, or Wasilla, or Boring, Oregon, and it wouldn't have made any difference! Usurper! Usurrrperrr!!!
God, is our handkerchief soaked, or what?
Alas, journalistic integrity requires us to point out what appears to be a gaping loophole in WND's argument: If we're to follow the Founders' intentions to the letter, Barack Obama is still three-fifths President. And that's more than enough to overrule the two-fifths that isn't.
Add a Comment
Please
log in
to post a comment