In Which We Mount a Desperate Search for Something Not Utterly Depressing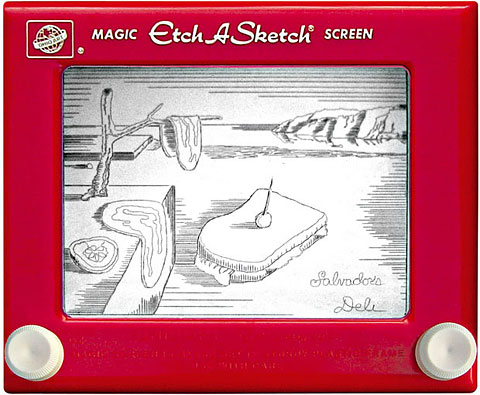 There's more ugly news out there if you're not yet sufficiently bummed, but Sandy Eggo is enjoying its first sunny day in more than a week (we're deducting the overcast from the rent), and damn if we're gonna let the happy-happy-joy-joy get away from us:
Today is the 50th anniversary of the Etch A Sketch. It was invented in the late 1950s by André Cassagnes, a Frenchman, who named it L'Ecran Magique (the magic screen). The Ohio Art Company bought the toy in 1959, renamed it Etch A Sketch, and launched it onto the American market on July 12, 1960.
That's right: The Etch A Sketch is French. We're calling it a Freedom Scribbler from now on.
Image: Salvador's Deli by Jeff Gagliardi
Add a Comment
Please
log in
to post a comment