Let the Eagle Fsck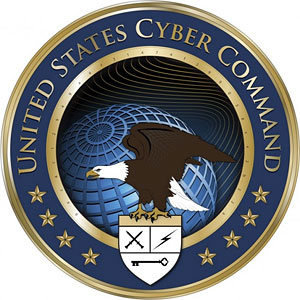 Your United States Geek Squad Cyber Command has unveiled a new logo, and embedded in one of its golden rings is a tired Gandalf reference secret code you're invited to decipher:
9ec4c12949a4f31474f299058ce2b22a
This is usually the moment where we sit back and, between earthquakes that annoy the shit out of us when we're trying to master embedding a WebView in a navigation-bar iPhone app so we can display styled text in the damn window, let our mind roam over the universe of whimsically amusing responses, selecting ten candidates to keep you company until we wake up and discover what crazy shit Michael Steele said today.
Only Wired's commenters already grabbed all the good ones. So we'll just steal theirs.
"All Your Base Are Belong To Us"
"In God We Trust, All Others We Monitor"
"To Serve Man"
"Up Up Down Down Left Right Left Right B A B A Select Start"
"I'm Sorry, Dave. I'm Afraid I Can't Do That"
"Purity of Essence"
"MD5 Should Be Considered Cryptographically Broken and Unsuitable for Further Use"
"Fear = Funding"
"10011110 11000100 11000001 00101001 01001001 10100100 11110011 00010100 01110100 11110010 10011001 00000101 10001100 11100010 10110010 00101010"
"Lorem Ipsum Dolor Sit Amet"
Add a Comment
Please
log in
to post a comment