Stinque Recipe Challenge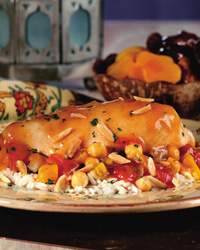 Three day weekend, so the big meal is tonight. Moroccan food – it's a tagine:
Ingredients
2 tablespoons canola oil
8 chicken thighs
Salt and freshly ground black pepper
2 tablespoons olive oil
1 large yellow onion, peeled, halved, and thinly sliced
2 cloves garlic, finely chopped
1 tablespoon ras al-hanut*
Large pinch saffron, soaked in 1/4 cup warm water
1 cinnamon stick
1 1/2 cups canned diced tomatoes, drained (15-ounce can)
1 1/2 cups canned chickpeas, rinsed and drained (15-ounce can)
3/4 cup dried apricots, sliced into half moons
Harissa Sauce, recipe follows
Chopped flat-leaf parsley, for garnish
Chopped fresh cilantro leaves, for garnish
*Cook's Note: Ras al-hanut is a mixture of many different spices used in Moroccan cooking. It is available at spice markets or online.
Directions
Preheat oven to 400 degrees F.
Heat canola oil in a large Dutch oven or a tagine over high heat. Season chicken with salt and pepper on both sides and place in the hot pan, skin side down, in batches if needed; cook until golden brown. Turn the thighs over and cook for 2 minutes longer. Remove chicken to a plate.
Remove all but 2 tablespoons of the oil from the pan then add the olive oil and heat over medium heat. Add the onions and cook until soft. Add the garlic and cook for 30 seconds. Add the ras al-hanut and cook another 30 seconds. Add the saffron with the soaking liquid, cinnamon stick, tomatoes, chickpeas, and apricots and bring to a simmer. Nestle the chicken into the mixture and bring to a simmer. Cover and cook on the stovetop or in the oven for 35 to 40 minutes or until the chicken is tender. Do not remove the lid to check on the chicken until this time. Garnish each serving with a dollop of Harissa Sauce, parsley and cilantro.
Harissa Sauce:
1/2 cup creme fraiche
1 tablespoon harissa*
Salt
So I'm eliminating the cilantro and fiddling with the quantities – we'll see how it comes out. A friend of mine got the ras al-hanut at a spice store in the East Village and, believe it or not, Fairway had the harissa sauce. Oh – and substituting sour cream for the creme fraiche – would have had to make it a day before, and I forgot.
UPDATE: Also added toasted pine nuts – had seen it used in another tagine recipe and had them left over from a pesto excursion.
Add a Comment
Please
log in
to post a comment