Connect the Dots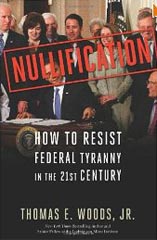 Title: "Nullification: How to Resist Federal Tyranny in the 21st Century"
Author: Thomas E. Woods Jr.
Rank: 63
Blurb: "Citizens across the country are fed up with the politicians in Washington telling us how to live our lives — and then sticking us with the bill. But what can we do? Actually, we can just say 'no.' As New York Times bestselling author Thomas E. Woods, Jr., explains, 'nullification' allows states to reject unconstitutional federal laws. For many tea partiers nationwide, nullification is rapidly becoming the only way to stop an over-reaching government drunk on power. From privacy to national healthcare, Woods shows how this growing and popular movement is sweeping across America and empowering states to take action against Obama's socialist policies and big-government agenda."
Review: "As the documents in Part II of the book reveal, Woods bases his concept of writings all published before the Civil War. To many, that might sound quaint, but to others, that age represented the peak of liberty on Earth (at least certain demographics)."
Customers Also Bought: "Lincoln Unmasked: What You're Not Supposed to Know About Dishonest Abe," by Thomas DiLorenzo
Footnote: Customers also also bought "Abraham Lincoln: Friend or Foe of Freedom?", "Lincoln Uber Alles: Dictatorship Comes to America," "The Real Lincoln: A New Look at Abraham Lincoln, His Agenda, and an Unnecessary War," "States' Rights and the Union: Imperium in Imperio, 1776-1876," and "Negrophilia: From Slave Block to Pedestal — America's Racial Obsession." We're sure there's a pattern there, but for the life of us, we can't figure out what it is.
Buy or Die [Stinque@Amazon kickback link]
Add a Comment
Please
log in
to post a comment